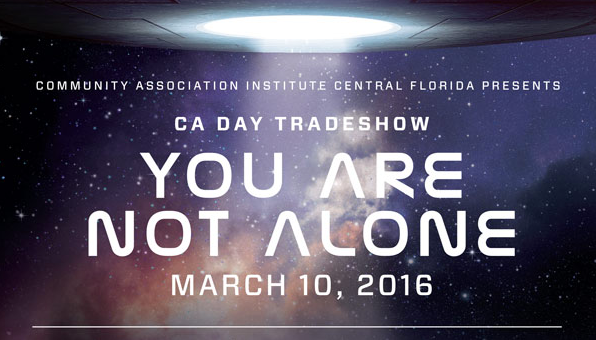 The Melrose Corporation was proud to attend the Community Association Institute – Central Florida Chapter's Annual Trade show that was held on March 10th, 2016 at the Hilton Orlando. The industry's most prolific companies gathered to showcase their businesses and network with CAI members, and association board members throughout Central Florida.
The tagline this year was "You are Not Alone," and the theme of this year's trade show was centered around space and the universe. Of course, this was the perfect opportunity for the Melrose Marketing Department to get to work.
Our booth this year was anchored by a brand new backdrop that featured the Melrose Corporation and all of its affiliated companies in a step and repeat pattern.  All of Melrose's 8 subsidiaries were displayed prominently, including our newest addition, The Melrose Realty Group.
Stars, spaceships, astronauts, and even an inflated green alien were added to compliment the space theme of this year's show. All guests to our booth were offered candy from storm trooper and Darth Vader bowls and even the candy, Milky Ways and Starbursts, went along with the theme!
Melrose branded items were also handed out in the form of letter openers, magnetic calendars, sticky pads, brochures, and water bottles to all board members, managers, and other business partners who stopped by.
Representing Melrose at the Tradeshow were  Katherine Montgomery (Vice President), Neall Prashad (Director of Marketing), Michelle Bibeau (Regional Manager -Orlando), and Tri Morocco (Melrose & Partners).
To say that Melrose was proud to be in attendance at this year's CAI Tradeshow in Orlando would be a huge understatement! We look forward to being at future CAI events, and trade shows in the near future. Be sure to visit our Facebook Page to see more pictures and to stay up to date on more exciting Melrose news.
Congratulations to the entire Melrose team for an excellent showing at this year's trade show!